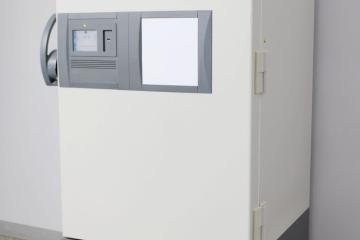 Is your -80ºC on the fritz? Do you simply need to temporarily thaw your freezer to clean it out? The PCAT holds a spare and provides scheduling for a spare large -80ºC Freezer. If you are not a member of the DC, you should first confirm that you have checked with UCSF Facilities to see whether they have a loaner for you.
This model is a Thermo Scientific Revco UxF Ultra-Low Temperature Freezer, and holds ~28 cubic feet storage and it is located on the 10th floor, outside of the PCAT space. Ideally, it is not to be moved so bring your freezer racks on a cart to this location. If it absolutely does need to be moved, most likely facilities can do this for you.
Here are the FAQs:
To use the freezer-- you must sign up for the duration of your intended use.
This freezer is most frequently used as a temporary (2-3 days) loaner freezer for routine freeze-thaw clean outs of your existing freezer.
If your lab needs to occupy the freezer for longer than a few days, for example, while waiting for new freezer to be delivered, discuss your timeline with the PCAT. You should provide evidence that your replacement freezer has been ordered.
This loaner is maintained in an unplugged state when not in use. Hence it will take approximately 12-24 hours to sufficiently cool down. It is a green policy. In most cases, your broken freezer will maintain a frozen state for a day or two, without dry ice, and without opening it.
After use, and to prevent mould growth, the freezer must be left clean and dry.